CALL BY SKYPE
DOWNLOAD FOR TOMTOM NAVIGATOR
Description
The farm Bellavista also includes a wonderful holiday home, open all year round. Located on a hill, it offers a mild climate and a beautiful panoramic view, having a wonderful view over the landscape, till to reach Volterra and Peccioli.

As an ancient building, 2001 it has been restored in 5 smart flats, roomy and full of light, well furnished and comfortable. All of them have a panoramic view, outside space, satellite tv.

The Agriturismo Bellavista is surrounded by olive trees and by the Tuscan landscape (it has 2 pools among the trees), and meanwhile it is 10 minutes by foot far from the centre of Lajatico, an ancient place in the province of Pisa.

Bellavista is located in the heart of Tuscany, not far from important cities (as Siena, Pisa, Florence, San Gimignano and Volterra). It offers a strategic place for visits and tours.

The farm Bellavista also offers the possibility to stay in the holiday home "Le Valli", located in the storic centre of Lajatico, among typical shops, the small square and the old paths.

The holiday home is composed by 3 big flats and 1 smaller flat (named Mangiatoia, Bellavista, Bellosguardo and Cantina). A nice place, for people looking for relax among the country life.

Recently restored, the flats put together the country style, a nice pool and a beautiful panoramic view.

Basing on the family tradition, Bellavista produces high quality wine and olive oil.

There are several kinds of honey, like acacia, mixed sulla and acacia, wild flowers. Honey is kept far from light and from source of heat. It has not preservatives, beacuse it is collected after the complete ageing.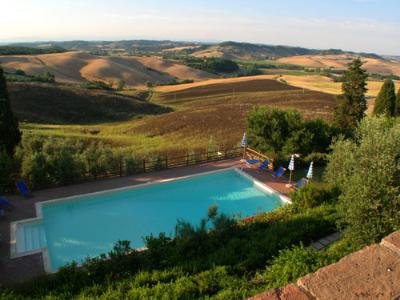 Agriturismo Bellavista Toscana
Via A. Moro 11 56030 Lajatico (PI)

Web: www.agriturismobellavistatoscana.com
GPS Coordinate:
latitude 43.478048 (43° 28' 40,97'')
longitude 10.734718 (10° 44' 4,98'')